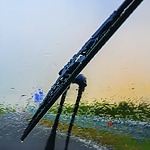 Have you ever wondered exactly what causes your windshield wiper blades to squeak, chatter or leave your windshield looking a streaked mess? Windshield wipers such as these need replacement. In general wiper blades should be replaced at least once annually or every six months. Here's why they break down and what to look for.
Windshield Wiper Blades 101
According to the seasoned team members of our Ruxer Truck Center service department, windshield wiper blades are basically automatic squeegees. Their main components are rubber and metal.
Like any natural and synthetic materials...
Read More